Welcome to the Montana Blue Jewel Mine website!

This is our portal page, designed to link you to all of our other sites across the internet.
If you're looking to order one of our world famous sapphire bag kits, then you'll want to head over to our store.

Store - Coming back soon!
Fee Dig Information:
The mine will be closed to new reservations for the dates of July 9th - July 24th. We will be open again for fee digs on July 25th.
We are OPEN for fee digs for the Spring/Summer
Bring good shoes, sun protection, plenty of liquid refreshments, and snacks. Please note that the mine currently only has 3 sapphire gravel screening stations setup, so booking your visit ahead of time is VERY important. It usually takes 2-3 hours to screen the dirt, and it is a lot of work, especially in the Summer heat.
Some shade is available. Please allow for variable weather conditions. Cold and wet weather gear is also recommended as the weather can change rapidly even in the Summer.

If weather on the day of your dig is particularly bad (lightning, torrential rain), we will allow you to reschedule.

We have all the equipment you need to search for sapphires on site, although you are free to take purchased buckets of gravel concentrate home with you in addition to, or even instead of, using the mine's equipment.

We have two portable toilets on the premises, with one of them being wheelchair accessible.
Fee Dig Hours are generally 10AM to 6PM.

To book a Fee Dig, call us at (406)437-8605 and talk to Bruce.

Each bucket contains pre-sized and unsearched sapphire gravel concentrate.

(5) - Concentrated 5 Gallon buckets for $50

(11) - Concentrated 5 Gallon buckets for $100.

We keep the mine open to fee digs until Winter hits, which varies by year. We will put an announcement on this page and the Facebook page when the mine is closed for the Winter.
Directions to the mine:
Please note, google currently has the wrong location for 5582 Four Cees Rd. We are currently attempting to get them to fix it.
GPS Coordinates - 3 formats
Some GPS's have an error where it tells you to turn at Huotari Lane, which is too early. You should continue down Favorite Gulch Road to the Four Cee's street sign, before turning.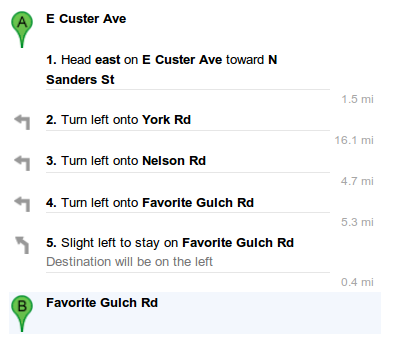 Clicking on the following link will bring up Google driving directions to the mine.

Google Driving Directions
Recommended Cutters: